What we do
The Orthotic Department provides a wide range of orthoses for all parts of the body. An orthosis is an external device that is used to correct, accommodate or maintain good positioning of bones and joints by helping to rest, protect or support you. This may help your mobility and function or in some cases will be used to stop movement if this is required as part of your treatment.
Our devices
There are orthoses for all parts of the body such as:
Prescribed footwear
Foot supports and moulded insoles
Callipers and leg braces
Head, neck, and spinal orthoses.
Wigs for temporary or permanent hair loss from chemotherapy or alopecia
If you would like to know more about Orthotics or are interested in a career as an Orthotist you can visit the British Association of Prosthetists and Orthotists for more information.
The majority of people will be seen in the orthotic clinics where you are allocated an appointment time and will see the orthotist who will assess what kind of orthosis would be the appropriate treatment, measure and order the orthosis. Once it has been made you may be required to attend a fitting appointment.
Your Treatment at the Orthotic Department
What might happen at your first appointment?
After the orthotist has examined you, they will discuss your treatment options with you. You may need to part undress for the assessment and measurement, or plaster moulds may need to be taken, please wear loose trousers and avoid wearing tights. If you wish, you may bring a relative or friend into the appointment with you.
Small stocks of orthoses are kept at the hospital. We may give you one of these at your first appointment if it is appropriate. Most orthoses have to be made specifically for you, one or more further appointments will be arranged to make sure that it fits properly once it arrives.
Students in the orthotics departments
Royal Blackburn and Burnley General are both teaching hospitals.
Within the orthotic department we train student orthotists from the University of Salford.
If you do not wish the student to be present during your appointment please inform a member of admin staff or your orthotist prior to your appointment.
What happens after the appointment?
Where a made to measure orthosis is needed this will be ordered, it can take up to 6 weeks for the factory to make what you need. When it is ready it will be sent back to the orthotic department and you will be asked to come for a fitting or supply appointment. Adjustments may need to made to your device, where this is the case, the orthotic device(s) will be marked up and sent back to factory for changes to be made, they will then be finished ready for supply next time you attend the department.
When the orthosis has been finished you will need a supply appointment where your finished orthosis will be given to you and the orthotist will show you how to use it and look after it.
You may need a second orthosis for wash and wear/repair purposes, these will be ordered for you once you are sure that the first orthoses fit you ok, these are ordered from the same measurements as the first.
Our Cancel/Rebook and DNA policy
We now issue opt in letters to our service, once an opt in letter has been sent, if you fail to contact us within 2 weeks, to either advise you require/decline an appointment we will discharge you back to the referrer.
If you are discharged and still wish to be seen then you will need to contact the referrer to refer you back to our care.
Failure to attend, cancelling without reasonable notice or cancelling more than once may result in you being referred back to the care of your GP.
Please note that a failure to attend or cancelling at short notice results in a cost to the NHS of £160.
Outpatients clinics
Outpatient clinics are run at:
Royal Blackburn Teaching Hospital - Monday to Friday 8.30am to 4pm
Burnley General Teaching Hospital - Monday to Friday 8.30am to 4pm
Accrington Victoria Hospital - Wednesday 8.30am to 4pm
Clitheroe Community Hospital – Wednesday twice monthly 8.30am to 4pm
Specialist Hair Clinics run at both Burnley General and Royal Blackburn Teaching Hospitals once a month.
Inpatient clinics
We also run daily ward clinics across both main sites at 13:00-14:00 at Royal Blackburn Teaching Hospital and 16:00-16:30 at Burnley General Teaching Hospital.
Multidisciplinary Clinics (MDT)
We run a number of MDT clinics across the East Lancashire Teaching Hospitals. These are with Paediatric Consultants, Orthopaedic Consultants, Physiotherapists, and Podiatrists.
These clinics are run for both adults and children.
Specialist hair clinics
Specialist Hair clinics are held at both Burnley General Teaching Hospital and Royal Blackburn Teaching Hospital monthly, however you can choose to attend a selection of specialist salons which is recommended as you can have longer appointment times and a wider selection of wigs, a list of these will be in the correspondence from us.
When a referral comes in to our department from your consultant you will receive a letter stipulating the next clinic held at the above hospitals by an external salon. Included in this will be an exemption form and information leaflet. If you have proof of exemption, this will need to be shown to NHS Staff.
East Lancashire Hospitals NHS Trust has an allowance on all devices; the following is for wig patients which further information can be found online on the NHS Choices Website
Oncology patients : 1 x Wig per referral from the consultant (this may be increased depending on the consultants request)
Dermatology patients: 2 x Acrylic wigs per year set allowance
Accessing Our Service
Access into Orthotics is by referral only or if you have been seen by the Orthotics department before you can contact us direct to be reviewed.
Meet the team
Our team consists of 6 Orthotists, 1 Orthotic Assistant, 7 Administration Staff and the Administration Team Leader.
Orthotists
Mr. Graham Nuttall
Ms. Natalie Hall
Mrs Emma Loader – (Currently on Maternity Leave)
Mrs Avril Bateson – (Currently on Maternity Leave)
Miss Victoria Levitt
Mr. Kieran Cunningham
Kieran works as an Orthotist and joined the Orthotics team in March 2019. Prior to joining the team, Kieran worked as an Orthotist at Robert Jones and Agnes Hunt Orthopaedic Hospital. Specialist interests include: foot and ankle biomechanics, MSK assessment and paediatrics.
Kieran is proud to work within a passionate forward thinking team that are committed to providing outstanding care for the patients they see. He enjoys furthering his knowledge by attending training courses and staying up to date with new products. He is also a dad to two young daughters and loves spending time with his family.
Orthotic Assistant
Mrs Katharine Linley
Administration Team Leader
Mrs Kathryn Roberts
Administrators
Mrs Emma Walne
Emma has worked for the trust since 2010. She spent some time working as admin support in maintenance before joining the Orthotic team 4 years ago.
Mrs Fatima Vika
Mr. Garry Parker
Garry has worked in Orthotics for the past 3 years before which he was retired from the Referral Management Centre after working 15 years with them. His work is varied and very challenging but he works with a great team and they deliver a great service.
Mrs Julie Addison
Mrs Lydia Hames
Mrs Margaret White
I joined the Trust in the Orthotic department in 2018 having previously worked in retail for 33 years.
Miss Somayya Lunat
Where to find us
Royal Blackburn teaching Hospital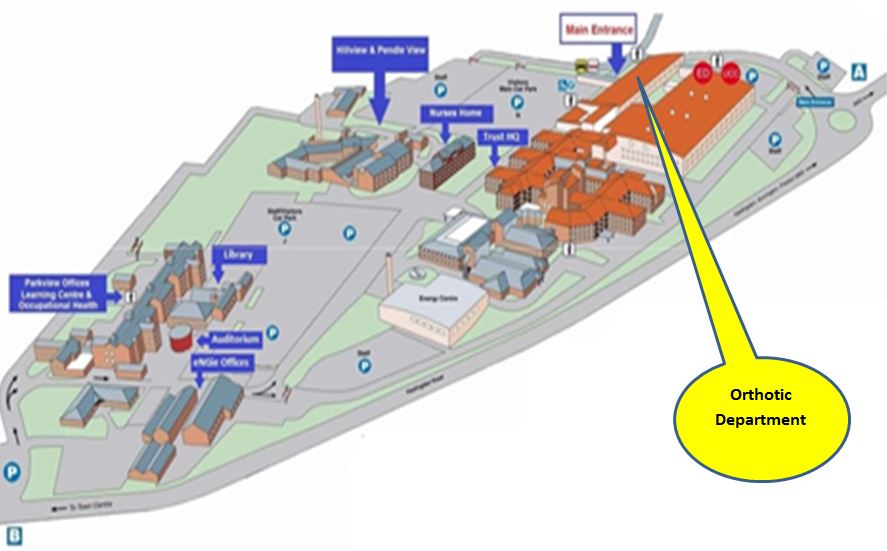 Burnley General Teaching Hospital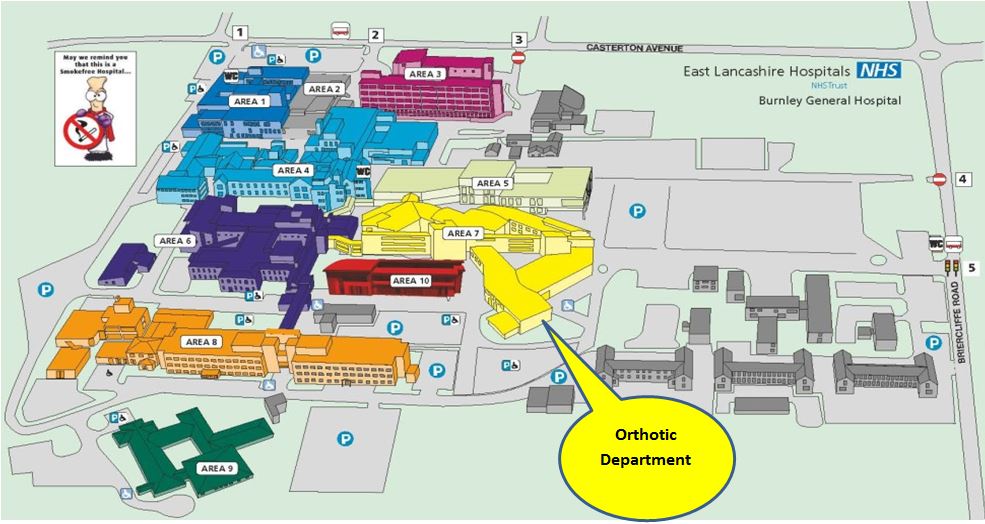 Accrington Victoria Community Hospital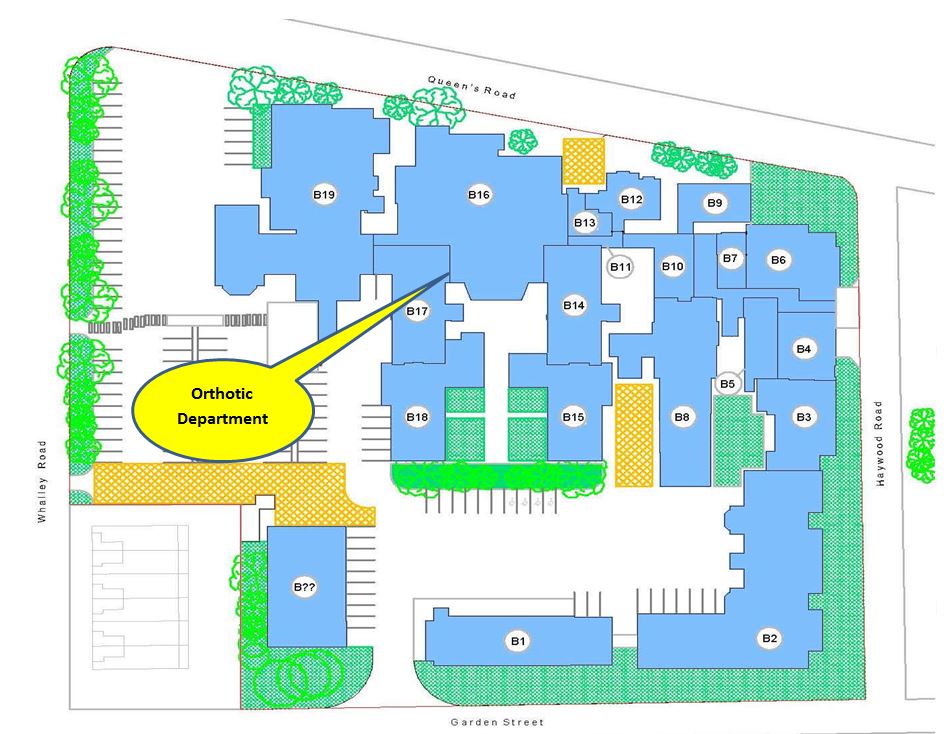 Contact Us
Orthotic Department
Level 1 - Royal Blackburn Teaching Hospital
Haslingden Road
BB2 3HH
01254 734040
Orthotic Department
Area 7, Level 1 - Burnley General Teaching Hospital
Briercliffe Road Entrance
BB10 2PQ
01282 804602
General Office
Orthotics Department
Accrington Victoria Hospital
Garden Street
BB5 6AS
01254 35900
Our Collect and Repair Service
Once issued with a device or footwear, it is important that this is brought in every 6 months minimum for regular repairs and maintenance requirements.
Items can be dropped in Monday to Friday from 9:00am to 4:00pm at any of the following centres for repairs and maintenance;
Royal Blackburn Teaching Hospital - Orthotic Department
Burnley General Teaching Hospital - Orthotic Dept
Clitheroe - Health Centre
Accrington Victoria - General Office
Please Note: The Department of Orthotics, East Lancashire Hospitals NHS Trust cannot accept responsibility for orthotic devices that have not been maintained or serviced. It is your responsibility to ensure all orthotic devices are brought into the department to be checked or repaired regularly to keep them in safe working order.
If you do not contact the department within 4 weeks of your original collection letter notification, we will assume that you no longer wish to receive the device.
The item we have ordered will then be returned to the manufacturer for refund or destroyed and you will not receive further appointments from our service. We will also inform your referrer and GP of this change.
Patient Information Leaflets
Within the department we have been working hard to produce helpful and informative leaflets for all our patients to utilise.
Please see our list of leaflets below of which you can download as a PDF file and keep safe if you wish to do so.
The relevant leaflet should be issued to you when you attend the appointment for fitting or supply of your device.
We are also running an audit currently of our patient information leaflets to determine how and where we can improve on the content and the format of our leaflets.
Please ask at reception on attendance for a patient leaflet questionnaire to take part in our audit and shape our department into a more patient informative one.