What we do
ELCAS stands for East Lancashire Child and Adolescent Service. ELCAS is a specialist mental health service for children and young people up to the age of 16 years. ELCAS provides a number of different services i.e. Specialist outpatient service, Intensive support team, Youth Offending services, Diabetes and Primary care liaison.
ELCAS is one part of a group of services by different organisations called CAMHS (Child and Adolescent Mental Health Services).
On this page we aim to give you some information to explain what we can do to help.
Click here to see our ELCAS leaflet.
ELCAS is a service made up of people from different professional backgrounds who have training and skills in working with children, young people and families. The main service is the Specialist outpatient service where we have 3 area teams:
Burnley and Pendle
Hyndburn, Rossendale and the Ribble Valley
Blackburn with Darwen
Although the teams are not exactly the same; the types of people you might see in each team are:
Psychiatrists
Mental Health Practitioners
Clinical Psychologists
Family Therapists
Nurses
Art Therapists
Play Therapists
Cognitive Behaviour Therapists
ADHD Specialists
What does the ELCAS team do?
Our teams help when a young person is experiencing severe, complex and persistent mental health problems and mental health disorders. We focus on delivering measurable clinical outcomes.
There may be concerns such as:
Self-harm and suicide attempts
Moderate and severe depressive disorders
Adolescent Attention Deficit Hyperactivity Disorder (ADHD)
Mental health Issues related to Autistic Spectrum disorders
Complex neuropsychiatric disorders
Obsessive Compulsive Disorder (OCD)
Phobias and Anxiety Disorders
Trauma and complex PTSD
Mental health issues associated with physical health problems
Of course, having ADHD or being autistic or being anxious doesn't mean someone has to come to ELCAS. Most people who need help are seen in other services. It is when these things are persistent, complex, and have a severe impact upon the young person's daily living and ability to cope, that ELCAS becomes an option. Mild to moderate problems can often be seen in community and if needing more input (but are not severe) then Clinical Child Psychology LCFT provide specialist input.
The specialist services for some concerns are not commissioned and provided by ELCAS but other teams and services e.g.
Eating disorders (Specialist ED team LCFT)
Psychosis (Aged 14 over – Early onset service LCFT)
ASD assessment (Community Paediatrics ELHT and Action for ASD)
ADHD Diagnosis and treatment (Under 12y) Community Paediatrics ELHT)
Substance Misuse (Addaction)
How to access the service
Our services are accessed via referrals from other health professionals.
View our leaflet for professionals
We are developing a web based referral form but currently referrals need to be sent via the postal system.
Where to find us
East Lancashire Child and Adolescent Service is located:
Area 3 Level 2
Burnley General Hospital
Casterton Avenue
Burnley
BB10 2PQ
We deliver specialist assessment, consultation, diagnosis, formulation and treatment in a range of settings, including the ELCAS department, community and locality settings. In certain circumstances we can see people at their home or school.
If you are in a crisis
It is important to keep yourself safe. If you feel suicidal or have hurt yourself; let an adult know as soon as you can. It may be that the safest place for you to be assessed is through A&E at the hospital.
You can talk to somebody directly 24 hours a day at:
ChildLine (Free 24 hours) 0800 1111
Samaritans 08457 90 90 90
Service Lead
Jo Weller - Clinical Service Lead and Clinical Director
General enquiries
Telephone - 01282 804806
Opening times
Office hours 9am - 5pm
Clinics 8am - 7pm
Social media
Follow us on social media; Instagram, Twitter and Facebook @elht_ELCAS
Your journey through ELCAS
The Start
ELCAS is a specialist service which means that you can't just ring up and ask for an appointment. Referrals can be made by other people who have already met you and think that ELCAS might be able to help.
Those people include:
• Your GP (family doctor)
• Social Worker
• Paediatrician (Specialist Children's Doctor)
• School with a supporting CAF Common Assessment Framework (CAF)
Once we receive your referral and we think we might be able to help; we get in touch as soon as possible to offer a choice of appointment dates. If we don't think we can help we will give advice to the person referring you about other services. We will ask you to complete some standard questionnaires and give consent to the service.
Your First Appointment
When you come for your first appointment, you will be seen by one of the people who work in ELCAS. You are usually seen with your parents or carers, but as part of the meeting we might to want to see you alone. Sometimes we also need to see your parents alone so don't be too worried if this happens. It is important that everyone feels comfortable and able to talk openly about what concerns they have.
The first appointment usually takes 60 minutes.
When you have had your first appointment, we may need more information to help us decide what we can do to support you. This may mean speaking to teachers at school or other people who are known to you. We would always discuss this with you first.
After your first appointment, the person you met from ELCAS will need to talk to the other members of the ELCAS team to help think about if and how ELCAS can help.
If we think that ELCAS is the best service to help you, we will write to you to let you know. You may need to wait for a little while for your next appointment and then you will be invited back so that we can work together on a plan. This is sometimes called a treatment or care plan and you are welcome to have a copy of this plan. We would work out with you what your goals for ELCAS involvement would be.
Sometimes we need to carry out further assessments and may have to ask another member of the ELCAS team to help. Don't worry if this happens, it just gives you and us a better understanding of what is happening in your life.
Treatment / Therapy
We offer lots of different types of treatments or therapy which include mostly talking, but we also offer play therapy and art therapy. It is sometimes helpful for your family to be seen together in Family Therapy. There are times when medication might be helpful too.
Your family or carers will usually be part of the treatment plan, to help decide what treatment/therapy would be best for you.
Discharge
When you are getting ready to move on from ELCAS, we will work with you to make sure you feel comfortable about your next steps. If you are going to another service, we will do our best to work closely with that service for a while to make sure the change is smooth and you feel supported. ​​​​
Our professionals
Child and Adolescent Psychiatrists
Child and Adolescent Psychiatrists are doctors who are specially trained to work with children and young people when they have problems related to how they feel, think or behave. They are medically trained and have an understanding of mental health disorders. As well as psychological treatments sometimes they will prescribe medication and will usually be involved if a young person needs to go into hospital.
Clinical Psychologists
The Clinical Psychologists who work in ELCAS all have special training about how children and young people develop as they grow up. They have an understanding about how young people think, feel and behave in different situations such as home and school. Sometimes they will work just with the young person but often it will be with the parents or whole family too.
Many psychologists who work in ELCAS are also called doctor but this is different to the medical doctors.
Mental Health Practitioners
Mental Health Practitioners come from a range of professional backgrounds. In ELCAS many of our Mental Health Practitioners are trained as Social Workers or Mental Health Nurses and who now have a special interest in working in young people who are experiencing difficulties. They have a wide range of skills, understanding and knowledge, enabling them to work closely with all members of the team. They can help young people and their carers to work out practical ways of coping with upsetting things, they can provide lots of information and advice, and work with everyone involved to find positive steps forward.
Several of our mental health practitioners also have qualifications and experience in different types of specialist therapies.
Family Therapists
These are specially trained professionals who have had lots of experience working with young people and families. Their main role is to work with the young person and members of their family (and people important in the young person's life) to help everyone understand their relationships with each other better and to improve communication between them. Working in this way often helps to understand what the problems are, and find ways of working together, to make them better.
Cognitive Behavioural Therapists (CBT)
CBT Therapists have had special training in a type of therapy that is concerned with how people think, feel and how this affects what they do. The CBT Therapists have really good skills in understanding why we sometimes keep making the same mistakes or doing things which are unhelpful to us, and have ideas about how this might be able to be changed.
Play Therapists
Play Therapists have had special training in working with children and young people using play. Play therapy can help children find ways to express their thoughts and feelings or experiences in a safe way and at their own pace.
Art Therapists
Art Therapists have had special training in art, and how making art can help people express themselves in a different way to using just words. The Art Therapist will help young people find ways to communicate and think about their experiences and thoughts through painting, drawing or making models.
We also have staff specifically trained in a number of other treatments such as EMDR, IPT. Most practitioners have more than 1 training and will use a mixture of training to help you.
Frequently asked questions
Q. When I come to see someone, how long will the meeting last?
A. Appointments usually last 45 to 60 minutes.
Q. Do I have to be seen in the ELCAS department?
A. The first appointment is usually at ELCAS but we can make arrangements to see you somewhere else like at your school, at home, health centre or Children's Centre. If there is space.
Q. Are the meetings confidential (private)?
A. Your visits to ELCAS are confidential and private to you and ELCAS, and we will always ask you first before speaking to anyone else. We record our clinical appointments on a secure electronic record system (IAPTUS).
We do sometimes need to talk about your worries with other people in our team, so they can help us to help you. We also need to let your doctor, and the person who referred you, know what we agreed at our first meeting.
If we are really worried about you and your safety, we may have to tell someone else outside our team, but will always try to speak with you first.
Q. Why do my parents have to know?
A. There are three reasons. Firstly, your parents are legally responsible for you until you are 16 years old, so we usually need their agreement to help you.
Secondly, your parents may benefit from ELCAS too by learning ways to help solve problems and support you better.
Sometimes it is helpful to make changes outside of the home, such as at school, and parents need to know so they can help make sure these happen.
Q. Will my friends know that I am going to ELCAS?
A. Not unless you choose to tell them.
Q. Will I need to go into a hospital to stay?
A. This depends on what your problems are and what kinds of treatments we can offer. Nearly all the young people who use our service just attend for appointments with an ELCAS worker on a regular basis.
Q. Will I be able to see the information ELCAS has about me?
A. We try to be as open as possible and share as much information with you as we go along. If you want, you can apply to see your files. A care plan will be developed which will be shared with you. Just ask your ELCAS worker for anymore information.
Q. Are mental health problems common for young people?
A. Probably more common that you might think. Almost everyone experiences mental health problems at some stage – worry, sadness, fear, loneliness and grief, etc. Sometimes people need a bit of extra help to deal with these feelings and thoughts.
Q. Will I be listened to?
A. It is essential that we listen to you! ELCAS staff are specially trained to listen and help you work through your thoughts and feelings. We want to know what you have to say and to understand more about the difficulties you are experiencing.
Q. Am I different to other young people?
A. Everyone is different to each other but this is a good thing. It just might feel at the moment though, that no one seems to understand you or that you don't feel as though you have anyone to talk to. Lots of the young people we see feel exactly the same way. Just because you feel this way at this time doesn't mean that there is something different or unusual about you.
Headmeds
HeadMeds is a unique website about mental health medication for young people created by YoungMinds. It has been developed by pharmacology experts and young people, and has been endorsed by the Royal College of General Practitioners and the College of Mental Health Pharmacy.
HeadMeds provides accessible, useful information about mental health medication during a time which is often confusing, frightening and isolating.
HeadsMeds provides information about potential side effects of medication and when a young person should go and get help.
Complete with real life stories and created with young people at its heart, HeadMeds provides much needed straight talk on mental health medication.
National links and resources
Below are some links to national organisations useful for information, support and advice on mental health issues. We have read and recommended them and the links that they then provide, as they are written specifically for young people or young adults.
It's best to look through them and see what makes most sense and what is most helpful to you.
Young Minds
A leading charity committed to improving the emotional wellbeing and mental health of children and young people. There are excellent sections on information and advice, with a comprehensive list of publications, websites & helplines.
The Royal College of Psychiatrists
The website has a specific section for young people with factsheets about mental health problems and a list of useful advice and links.
www.rcpsych.ac.uk/mentalhealthinfo/youngpeople.aspx
NICE
The National Institute for Health and Clinical Excellence publishes guidelines on high quality, evidence based care for patients using the National Health Service. Many of the difficulties young people we see in ELCAS are experiencing are covered in NICE guidance.
ChildLine
Confidential telephone counselling for any child or young person with a problem.
Freephone: 0800 1111 (24 hours)
Other resources and information on mental health issues
http://www.moodjuice.scot.nhs.uk
Local Links
ADHD Northwest - ADHD North West is committed to providing a free unique support service to empower and improve the wellbeing of individuals and families affected by an Attention Deficit Disorder and associated conditions.
http://www.adhdnorthwest.org.uk/
Action for ASD
Action for ASD is a charitable body for people affected by Autism Spectrum Disorders.
Child Sexual Exploitation
https://www.lancashire.police.uk/cse
Other useful sites
https://youngminds.org.uk/find-help/get-urgent-help/youngminds-crisis-messenger/
Youth offending service
Youth Offending Services are key to the success of the Youth Justice System.
These are known locally as Youth Offending Teams ( Lancashire ) or Youth Justice Service ( Blackburn with Darwen) They are made up of a range of staff from social, health, education, housing, police, probation, and drugs and alcohol misuse services. This multi-disciplinary team works together to find out the specific problems that make a young person offend and measure the risk that they pose to themselves and others. Based on these two factors, the service can create a suitable programme that aims to meet the young person's needs and so reduce the chance of them further offending. The programme is as tailor-made as possible to each individual.
In ELCAS, each geographical team has a YOT (Youth Offending Team) worker who sees young people who are having mental health problems while they are supported by the local youth offending team. Together these professional are known as the Integrated Mental Health Team.
If staff members in YOT are concerned for a young person's emotional and mental health, they refer the young person to this specialist Practitioner. The Practitioner will then meet the young person to see if they need support for mental health problems. The Practitioner can act as an advocate for young offenders deemed to have mental health problems. The Practitioner can also help lessen, where possible, the extent to which someone's mental health problems contribute to their offending.
The Practitioner can support a young person on a one-to-one basis, or in partnership with other services in the area, and can give someone further therapeutic support if this is needed. In cases where it appears to be in the best interests of the young person, the Practitioner can refer them to staff working in ELCAS, who will then support the young person. Occasionally, and after discussion with the young person, carers and YOT worker, the Practitioner might make a referral to another service and then help make the transfer as smooth as possible.
Understanding CAMHS - What is it?
The term CAMHS (Child and Adolescent Mental Health Services) is used in different ways to mean both individual services and as an umbrella term for all services dealing with child mental health. This can cause confusion. Child and adolescent mental health services (CAMHS) deliver services in line with a four-tier strategic framework which is used as the basis for planning, commissioning and delivering services.
CAMHS are organised around a four-tier system:
Tier 1 – non-mental health specialists working in general services providing general advice and treatment for less severe problems
Tier 2 - usually CAMHS specialists working in community and primary care. E.g. ELCAS primary care team, Clinical Child Psychology
Tier 3 - usually a multi-disciplinary team or service working in a community mental health clinic providing a specialised service for more severe disorders. Eg ELCAS specialist Teams, ELCAS IST
Tier 4 – highly specialist services for children and young people with serious problems. Eg Cove inpatient unit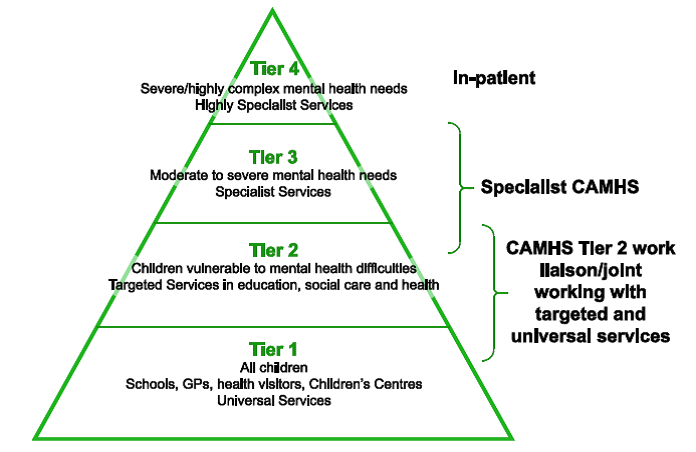 Most children and young people with mental health problems will be seen at Tiers 1 and 2. However, it is important to bear in mind that neither services nor people fall neatly into tiers. For example, many practitioners work in both Tier 2 and Tier 3 services.
Similarly, there is often a misconception that a child or young person will move up through the tiers as their condition is recognised as more complex. In reality, some children require services from a number (or even all) of the tiers at the same time.
It has been a long-term government plan that all children and young people, from birth to their eighteenth birthday, who have mental health problems and disorders, have access to timely, integrated, high quality, multidisciplinary mental health services to ensure effective assessment, treatment and support, for them and their families. Currently about 25% of young people with a disorder have access to such services. The immediate aim (By 2020) is for 35% of young people with disorders to have access to specialist care. This of course means that the majority will not have such access.
Future plans
In order to make best use of the limited resources there is a concerted effort to invest and change services to bring them up to the 35% access target. The Lancashire and Cumbria transformation plan is aiming to move to CAMHS services being commissioned and provided following a model called THRIVE. This aims to be in place by April 2020, with CAMHS going up to 18 years of age.
Useful Documents