Published on:
3 July 2020
---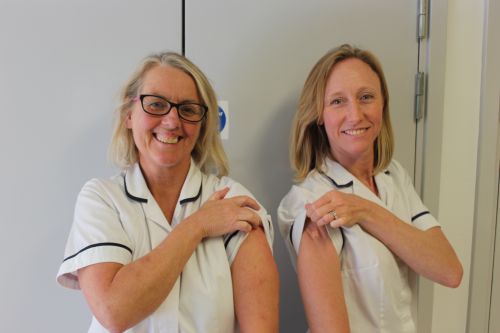 Pictured: Two proud Flu Fighters showing us that they have had their jab!
ELHT are celebrating following the announcement that we are once again the top Acute Trust in the country for staff flu vaccination uptake.
Kevin McGee, Chief Executive for ELHT said:
"I am delighted that over the last few years we have created a strong and genuine culture of awareness and individual responsibility, which has lead to over 7,500 of our workforce taking up the vaccination. Our staff recognise the important part they play in protecting their patients, their colleagues and themselves.
"Every year, NHS organisations across the country face the challenge of seasonal flu. We believe the flu vaccination programme is one of the most important ways of maintaining Safe, Personal and Effective Care across east Lancashire. And this year, with the presence of COVID-19, it will be even more essential for our community to take up the seasonal flu vaccine.
"The aim of the Flu programme is to reduce the health impact of Flu through effective monitoring, prevention and treatment. ELHT's seasonal flu campaign is carefully planned each year, taking into account the latest information received from national and international experts and data. The vaccination programme has been shown to be extremely effective in the 'prevention' element of the virus.
"The final uptake of flu vaccinations at ELHT for the 2019/2020 campaign was 94.8% and has exceeded last year's very successful campaign target of 93.6%. This was the highest uptake of flu vaccinations for frontline health care workers in the country and the second time in three years that we have been the Trust with the highest uptake. This is a truly impressive achievement which shows the high level of commitment our staff, particularly the frontline workers, have for the flu fighter campaign.
"ELHT has been identified as one of the stand out Trusts in the UK and we have supported other organisation in their planning an implementation of their own flu campaigns. Planning is already under way for the 2020 Flu campaign, with the aim to improve on last year's uptake."