Published on:
23 August 2018
---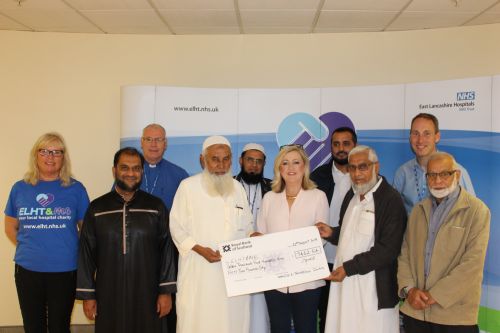 Pictured: Representatives from Tauheedul Islam Mosque hand over a cheque to Trust Charity ELHT&Me
Members from the Tauheedul Islam Mosque, located on Bicknell Street in Blackburn, have responded with great generosity to the appeal made by the hospital's chaplaincy service as part of its annual Ramadhan campaign.
The Tauheedul Islam Mosque raised an impressive £7,452 enabling the hospital to replace five old blood pressure machines with state of the art equipment, further enhancing patient care and safety. The mosque representative said the financial contribution was in recognition to the Trust's excellent health care services being provided to the community.
Christine Hughes, Communications Director at the Trust said:
"We are extremely grateful to the members of Masjid Tauheedul Islam Mosque for their generous donation to the Trust. We are proud and delighted that we can work in such close partnership with the local Mosques to help improve the health of the community across Blackburn with Darwen and East Lancashire."
Imam Fazal Hassan, the Muslim Chaplain and religious advisor at the hospital, who has been instrumental in the community engagement and mosque collaboration initiative, said:
"I am delighted about the multi-faith, multi-cultural collaboration and community cohesion that is fostered through this kind of charitable endeavour. I am very pleased with the response from the local mosque to the chaplaincy appeal and I am hopeful that many more mosques will soon be able to contribute to this vital and worthwhile cause to help their local hospital."