Published on:
3 July 2020
---
The NHS has been providing free at the point of access care for 72 years. This year, in light of the COVID-19 pandemic, it seems even more poignant to mark the occasion. Here we highlight what activities are going on this weekend:
Thank you Key workers!
To mark 72 years of the NHS, the staff at East Lancashire Hospitals NHS Trust would like to thank the key workers who have supported the health service in this challenging time!

Moment of remembrance – Saturday 4 July
Saturday 4 July, the day before the birthday, will be a moment of remembrance and reflection for those we have lost during the pandemic. This is a chance for the nation to come together and pay our respects. It is being led by the Together Coalition and we are asking people to place a light in their window or on their doorstep.
As part of this collective memorial, and as a mark of respect and tribute to NHS staff, key workers and everyone who has played their part during the pandemic, iconic landmarks including the London Eye, Royal Albert Hall, Blackpool Tower and Wembley Arch will be illuminated in blue.
We are calling on sports stadiums, bridges, castles, monuments, conference venues and landmarks to join in lighting up our skylines and cities on the evening of 4 July.
Thank you to the #MakeitBlue Collective who are supporting us as part of their #LightItBlue campaign. The campaign was created by the events and entertainment industry to show a united display of gratitude for health and key workers.
Have a look at this list of the buildings that we have been told will be lit up. We will update the list as we hear about more, so please check back.
We are also encouraging people to take photos and share them via social media using the hashtags #LightItBlue and #ThankYouTogether.
As part of this we will be lighting up our hospital sites at Royal Blackburn Teaching Hospital and BUrnley General Teaching Hospital.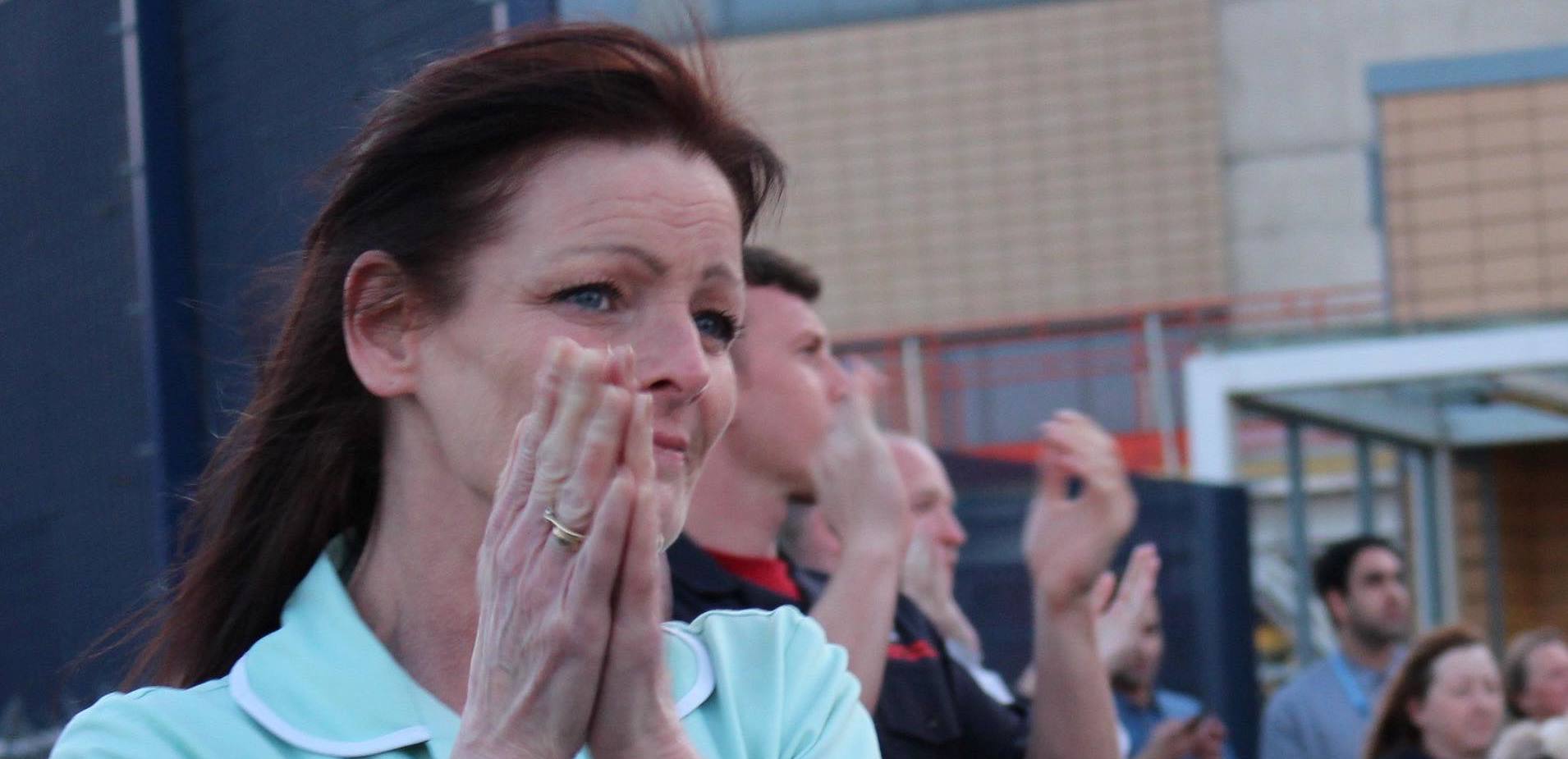 Clap for all - Sunday 5 July
On Sunday 5 July, the day the NHS was founded, the whole country is invited to come together at 5pm to applaud all those who have been helping us through the pandemic and recognise the vital community connections that continue to support us all.
Broadcasters will suspend normal transmissions at 5pm and BBC Radio Lancashire will be broadcasting the clap from our Royal Blackburn Teaching Hospital site.
Everybody will be encouraged to stop what they're doing and join with others (following social distancing advice of course) in their streets or neighbourhoods to applaud all those who have been helping us through the pandemic and recognise the vital community connections that continue to support us all.
Following the applause, we hope people will enjoy a drink or a cup of tea and reflect with family, friends and neighbours on the bonds that have sustained us in recent months and will continue to do so.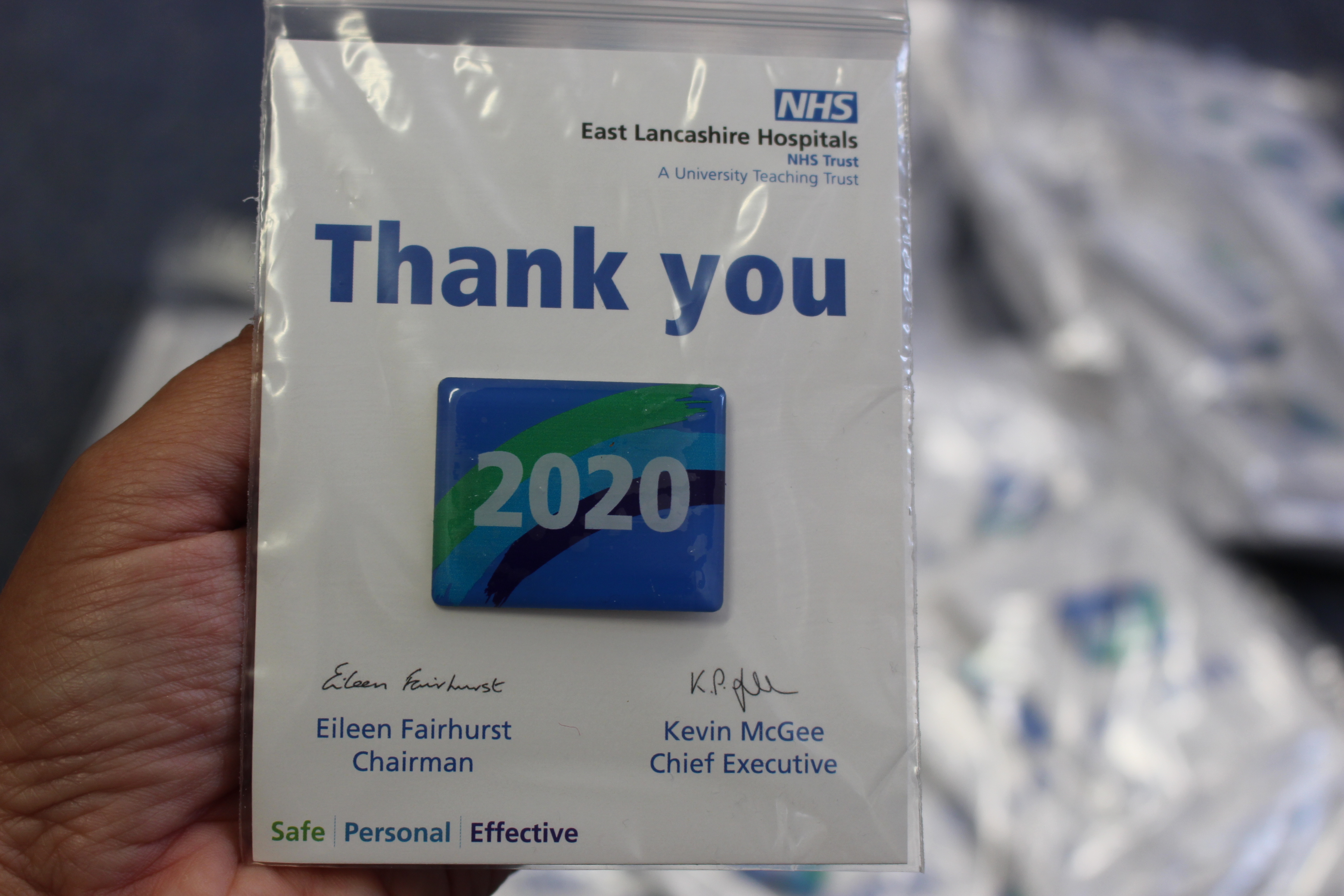 Thank you badges for our staff
Our Chairman, Professor Eileen Fairhurst and Chief Executive, Kevin McGee thought that this anniversary would be an appropriate moment to thank staff for all their extremely hard work and dedication throughout the COVID-19 pandemic.
These badges are a gift for each member of staff to say thank you. It is something staff can wear with pride to remind them how amazing they have been during this pandemic and of what we can achieve in times of exteme difficulty.