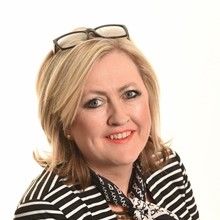 Christine Hughes joined the Trust in February 2014 as interim director of communications.
She has had a long and successful career in communications in the NHS including at Preston Primary Care Trust and Mersey Care NHS Trust, a large provider of mental health care, where she was director of communications for 10 years. Following a highly productive interim period here in ELHT, she became a permanent member of the team in June 2016.
Christine is responsible for overseeing all aspects of communications, stakeholder engagement, PR, media relations and reputation management. She also has an extensive knowledge and experience of strategic leadership on communication, involvement and engagement.
Christine is passionate about building and maintaining an extremely strong 'brand' for the Trust, continually reinforcing its reputation for delivering Safe, Personal and Effective care. Christine works tirelessly to ensure high quality in communications and engagement across the Trust, and is always looking for new ways to reach patients, staff and key partners.