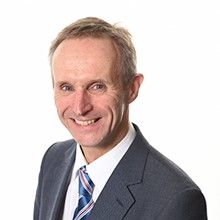 Dr Riley was formerly Medical Director at NHS England (West Yorkshire) where he led the mortality review for children's cardiac surgery services in Leeds and co-chaired two recent 'Keogh Reviews' for hospitals in the north of England. He also championed improvements in dementia, stroke and cancer care for patients.
As Medical Director of West Yorkshire PCTs, he led in a number of areas including extending access to general practice, leading the turnaround programme for West Yorkshire and urgent care, leading service redesign programme for diabetes care in Leeds, and was the Clinical lead during the establishment of NHS 111 services in Yorkshire and Humber.
Dr Riley, who studied Medicine at the University of Manchester, also has over 20 years' experience as a GP in diverse and challenging communities.
Dr Riley is currently covering the role of Acting Chief Executive at the Trust whilst Kevin McGee temporarily takes up the CEO role at our neighboring Blackpool Teaching Hospitals NHS Foundation Trust. Kevin will remain the overall Accountable Officer for the Trust.